ProX Car is the best car hire company in Dubai. we offer the best Toyota Car Rental in Dubai at an affordable price. Get your Toyota Car Rental from us at a great price. Book your Toyota Car Rental from us today.
Do you want to rent a Toyota car for the lowest price in Dubai? When there are so many options to choose from, renting a car can be a hassle. ProX car rental is one of the best and most cost-effective car rental companies in Dubai, with 8 different models of Toyota Cars to rent daily, weekly, or monthly. Various car models offer different features such as boot spaces, high mileage cars, reliability and comfort, cruise -control, dual airbags, and spacious for family travel. Rent a car in Dubai with all these features at a price that won't break the bank. Toyota cars are known for their dependability, which is one of the main reasons so many people pick them.
There are many Toyota Cars available for Rent in Dubai with ProX Car Rental, which is listed below with all the features and specifications of each car:-
TOYOTA COROLLA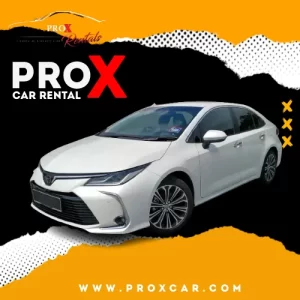 with ProX car rental in Dubai, you can now drive in style in a Toyota Corolla. The sedan car type is the most convenient method to travel with your family with simple documentation and immediate customer support for all your needs. The Toyota Corolla is known for its modern style aesthetics and is always a terrific car to drive for a variety of reasons. The car's interior is extremely spacious which gives you more space to sit and relax and gives you a comfortable ride.
During your scenic trip in Dubai, UAE, the 7" audio display, which connects to AM/FM/CD/AUX/BLUETOOTH will allow you to listen to soulful tunes/songs. 
When you rent a car in Dubai, ProX car rental ensures your drive is comfortable and smooth. You can enjoy a Toyota car for rent in Dubai for short and long drives around the city. If you are looking to rent a Toyota Corolla in Dubai, ProX car rental will ease your process. You may enjoy this car without breaking the bank with pricing as low as AED per day. 
Specifications:-
1.6L, 4 Cylinders In-line 16V

XLI Model

Dual front and side airbags

Petrol 

Door lock- wireless
Features:- 
Seating Capacity – 5

Doors – 4

Fuel Tank capacity – 50L

Adjustable Steering column

Gearbox – variable speed

Tyre type – Radial 

Luggage – 5
TOYOTA FORTUNER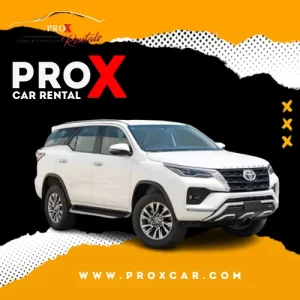 Rent an SUV Toyota Fortuner with Prox car rental in Dubai. The Toyota Fortuner is known for its heritage design. It has been designed and created with a strong and rigid sense of dependability. The bumper strips are quite durable. Toyota cars prioritize passenger safety and are built in a way that the occupant's safety is constantly protected.
This vehicle is a 4WD, which gives it a stronger appearance whether traveling in the mountains or camping in the desert.
The Toyota Fortuner will always meet the driver's comfort, and space requirements. It comes in 2 models, 2.7L Fortuner and 4.0L Fortuner in 2022. Both cars are incredibly powerful in their respective forms and are only available in petrol.  
The 8" touchscreen infotainment system is compatible with the Auto-car play and Android Auto, allowing you to play and connect with your favorite songs directly from your phone. 
Once you choose ProX car rental to rent all your rides, you will be left with nothing but delight and enjoyment as we take care of all your troubles. Furthermore, we ensure that there are no hidden fees, no extra documents required, just basic formalities. If you don't want to be a victim of those hidden fees, do send us a query and rent your car in Dubai with Prox Car Rental. 
 The Toyota Fortuner's specifications and features will allow you to drive it immediately, anywhere, and everywhere in comfort. 
Specifications
SUV

4WD (4 wheel drive)

Automatic

Petrol 

80 L fuel tank capacity
Features
7 seater

4 doors

235hp Power (depends on model type)

Adjustable Power steering

6-speed Gearbox

Radial wheels

Reverse camera

Reverse parking sensor
TOYOTA LAND CRUISER LC-300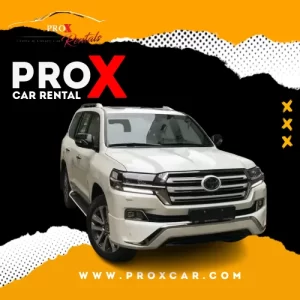 If you want an unbreakable voyage, Prox car rental in Dubai offers you the Toyota Landcruiser LC-300 at the best car rental price in Dubai. It is Ranked #10 in the world for the best luxury large SUVs. The car's exhilarating features will make you want to get behind the wheel right now. The Toyota Land Cruiser V8 engine will make the ride more dynamic and enjoyable. The car's interiors are warm and elegant. 
The back seats, which are likewise roomy, and comfortable, provide space and comfort for all the passengers, including the driver. Using auto-car play and Bluetooth,  you can listen to your favorite music while driving it to your favorite place around Dubai, UAE. Five suitcases can be stored in a big cargo area. The Landcruiser's fuel efficiency makes it more worthwhile to rent. This car will drive you insane if you want to go somewhere with your family and friends
Toyota Land Cruiser is available daily, weekly, and monthly at ProX car rental in Dubai. Think about it: if you get 24 x7 customer service along with the exhilarating cars to rent in Dubai, then what more could you want. Renting a car in Dubai with ProX car rental is quick and straightforward. 
Specifications
Luxury Large SUV

4WD

Vehicle Stability Control

Brake Assist

Dynamic Radar cruise control

Alloy wheels 

3.5 L and 4.0L Need to confirm
Features 
Petrol 

Climate Control 

Sunroof and black roof rails

Wireless charging 

Heads up display 

360-degree camera

Powered Tailgate 
TOYOTA LAND CRUISER PRADO
Thousands of people trust Landcruiser Prado around the world. Prado will ensure that you are comfortable, safe, and enjoy its excellent features whether you are on or off-road. Prado has the essence of a classic car, but it has also a stylish, bold, and contemporary style.
Prado has an excellent terrain perception, even on the most difficult terrain. The interiors are opulent and understated. The front and back seats are elegant and comfortable. It comes with a 2.7L 4- cylinder or 4.0L V6. The powerful engine is mated to a 6- speed automatic transmission with manual control. 
The Landcruiser Prado is a more demanding car due to its safety features. And you won't have to wait a long to rent Landcruiser Prado in Dubai because ProX car rental in Dubai has it accessible at the best and cheapest price. The minimum age to drive a car is 21 years. 
You can rent a car in Dubai directly from any terminal of the airport. Even if you are short on cash, ProX car rental accepts a variety of payment modes including credit cards. Please contact our customer service team 24 hours a day, 7 days a week for deals on various cards. Need to check
Specifications
87 L fuel capacity

7 seater

Petrol

271 hp

Adjustable Power steering

4 x 4

6-speed gearbox
Features
Ignition start-stop button

Touchscreen audio play

Front fog lamp

Sunroof

Dual front Airbags
TOYOTA RAIZE 
Toyota Raize is the brand's newest model and is noted for its comfort and design. It is a two-row subcompact SUV that is priced at the basic level. A fuel-efficient car that gives great mileage of 12.1 km/L. The 5-seater SUV offers a 60:40 split-folding back seat as well as a headrest for the person in the middle. This car has a lot of cool features and it's also a lot of fun to drive.
Even if you rent a car to go to the hills, the Toyota Raize offers Hill-Start Assist Control, to make your trip more comfortable. More wonderful features such as an emergency call button, tire pressure warning system, dual front airbags, and parking sensors add to the value of this compact SUV for the driver. 
With soulful music, the 8inch display Audio will create a relaxing environment. ProX car rental offers the easiest plans to rent a car in Dubai with minimal documentation. We have rental plans for both residents and non-residents of UAE (different documentation required). A minimum deposit is required to rent a car with a ProX car rental in Dubai. 
To rent this incredible car, drop us a query or call our 24 x 7 customer support and let us deliver you with a smile. 
Specifications
1.0L Turbo G

97/6000 hp

36L fuel capacity

3 cylinders

Petrol

CVT Transmission
Features
Fabric seats with Red piping

Multi-info display

Electric power steering

5 seater

Rearview camera

Daytime running lights
 TOYOTA RUSH
When traveling with family, you may consider renting a larger SUV, but the Toyota Rush is a compact SUV with upgraded features and a smaller version. It will make you believe it is the best SUV for the family on the market. With the ENCAP (European New Car Assessment Program) safety rating, this car ensures your safety. The car's interior says it all, with seating for up to seven people. Each seat has its own charging plug and all are equipped with airbags. It features a modest engine compared to other SUVs making it a deal for city driving.
Renting a Toyota Rush in Dubai will not break the bank because it is a fuel-efficient car that gets around 50 mileage per gallon (mpg). 
We at ProX car rental in Dubai would be delighted to provide this car to our customers at the best possible pricing. You will enjoy the experience of renting a Toyota Rush from us and will want to drive it again. Get in touch with us to find out daily, weekly, and monthly rental costs.  
Specifications
SUV

Petrol

Push Start Button

17" alloy

1.5L, 4 cylinder petrol engine

103HP

4-speed automatic transmission
Features
Vehicle Stability Control (VSC)

Hill-start Assist Control (HAC)

Ample suspension stroke

4WD

Fuel-efficient car
TOYOTA YARIS
Save your time and money by renting Toyota Yaris in Dubai with a ProX car rental. We have a large selection of Toyota rental cars at low rates. Toyota Yaris Sedan is well known for its comfort, dependability, and smooth rides. The primary motivation for the motorists to drive is to save money on fuel. This car can be used in the city, in the mountains or for camping. It accommodates up to 5 people in the car with spacious boot space for the luggage. Adjustable steering makes driving with adjustments more pleasant for the driver.
It features a 7-speed automatic transmission and can reach speeds of 130/140 kilometers per hour. On highways, Cruise control allows the driver to rest. Apple/Android car play will allow you to listen to your favorite music while driving. 
ProX car rental makes your car rental process smooth and hassle-free. Please call our 24 x7 customer service to check out amazing deals and get the car delivered to your doorstep with easy payment methods. 
Specifications
42L fuel tank capacity

Petrol

105hp

Powerful adjustable steering column

7-Speed gearbox

Automatic sedan
Features
4 doors

Parking sensors

Cruise Control

5 luggage space

Fuel-efficient
Benefits of Renting a Toyota Car in Dubai
Whatever you are looking for in your rental car, Toyota is a brand that will provide you with a solution in line with your requirements. Each vehicle featured in Toyota's extensive line-up has been designed with their customers in mind and many of the entry-level models are fitted with industry-leading technology. Ever since the Japanese brand was first introduced into the market, they have continued to be at the forefront of innovation within the industry.